I haven't read this book yet but I have been a fan of Terry Cole-Whittaker for many years. I will step out on the proverbial limb and predict that this will be a great read. I plan to pick it up when it hits my local book store. (I do not have any financial or professional interest in this book.)
The book shares with the world the knowledge that will produce continual joy, peace of mind, and good health.
News Release:
Los Angeles, CA (
PRWEB
) March 26, 2010 -- In her new book
"Live Your Bliss: Practices That Produce Happiness and Prosperity"
, best-selling author of six books, including the ever-popular What You Think of Me is None of My Business, Emmy-award-winning television producer and host, former televangelist, and Third runner up in Mrs. America, Dr. Terry Cole-Whittaker shares with the world the knowledge that will produce continual joy, peace of mind, good health, and prosperity. Regardless of world conditions or the person's past history, current problems, or situation, anyone can live their dreams and flourish by applying her bliss-system.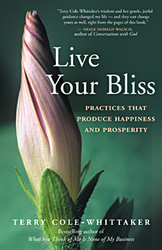 Inspiration for
"Live Your Bliss"
came after Dr. Cole-Whittaker realized that there was something extremely important missing from her teachings. Although she was at the top of her profession, featured in magazines and newspapers including, Wall Street Journal, US, Newsweek, People, Time, Family Circle, and a popular guest on TV and radio programs, including Oprah, Good Morning America, Larry King, and considered a global celebrity and spiritual and business leader, she wasn't really happy. Instead, she was fearful, distressed, and emotionally distraught a good part of the time, as if on an emotional roller coaster. Happiness was always just out of reach.
This realization led her on an amazing spiritual journey and vision quest that yielded all that had been missing, plus the sacred wisdom whereby everyone can enjoy the benefits of ever-increasing bliss, sufficiency, and good fortune.
"Live Your Bliss"
delivers profound truths in a very accessible manner. It's high time that more attention be focused on bliss, which Terry rightly describes as the intrinsic nature of every soul. Terry is a wise woman who was written the most important book of her life," says Steven Halpern, award-winning composer, recording artist, and pioneering sound healer. Neale Donald Walsch, author of Conversations with God, "Few people on the planet are more clear, more aware, more conscious or more wonderfully insightful than Terry Cole-Whittaker. Her wisdom and her gentle joyful guidance changed my life – and they can change yours as well…"
Through the exploration of each chapter, a reader will be able to tap into their bliss by the powerful messages of You Are Already Powerful, Receive the Abundant Flow of Divine Bliss and Opulence, Expand beyond Self-Imposed Limitations into the Realms of Greatness, Prosper and Live Blissfully by Doing What You Love, Pleasure –Producing Relationships. Who Were You Before, and Who Will You Be Next?, The Pleasurable Way to Be Healthy and Vibrant, Entrance into the Realm of Divine Pleasures.
Dr. Cole-Whittaker mission is to remind readers of their limitless power within themselves so, they can create their human success story. It is through this mission that Dr. Cole-Whittaker is shaping the international concept of what is possible to achieve in one's personal life and life's work by recognizing and actualizing their inner genius, mental powers, and enormous talents.
Her path of enlightenment and teaching began at the age of 17. Since then, she has studied with the Mystic Masters of the Far East and has studied the great religions and various transformational philosophies of the world. Her students are the Who's Who of global leaders in all walks of life.
For more information about Dr. Cole-Whittaker and "Live Your Bliss: Practices That Produce Happiness and Prosperity," visit
http://www.TerryColeWhittaker.com
.