News Release (Segment): Powder Springs, GA (PRWEB) March 26, 2010 -- Dr. Jonathan Sarfati, author of the world's best-selling creation book, takes Dawkins on head to head in the book "The Greatest Hoax on Earth? Refuting Dawkins on Evolution". Dr. Sarfati thoroughly exposes the bankruptcy of Dawkins' arguments and scrutinizes Dawkins' methods, highlighting tactics which he deems are unreasonable and illogical - such as frequently resorting to straw-man arguments.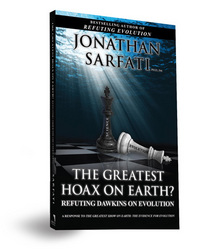 The Greatest Hoax on Earth? Refuting Dawkins on Evolution
Dr Jonathan Sarfati, scientist, chessmaster, logician and Christian apologist knows well the creation vs evolution controversy. Before publishing The Greatest Hoax on Earth?, Dr. Sarfati authored the best-selling book, Refuting Evolution, which now has over 500,000 copies in print. His confident and rigorous approach always makes for interesting and thrilling reading, as he tackles his opponents head-on. Dr. Sarfati also tackles the ethical and biblical issues that accompany the creation vs. evolution issue."
My only complaint, if you will, is this: Why is there never a solid, scientific alternative to both evolution and creationism? Lots of loose ends in both of those approaches. But the only other views I ever see or hear are way too "out there," or "woo woo," to make any real sense.
Any ideas?
(Click on title of this post for more info on the book.)